At the beginning of June I shot a wedding. I said I would post pictures and never got around to it. I'm doing it now!
This is Tiffany.
She grew up down the street from me. She's 7 years younger than me so we weren't friends growing up until like 1998 my best friend developed a crush on her brother Austin. We found ourselves down at their house a lot in those days and I realized that Tiffany was a pretty cool kid. And actually I thought Austin was kind of a jerk! Eventually Carrie got over the crush (cause Austin was kind of a jerk...) but we stayed friends with tiffany. She tagged along to concerts occasionally, or the movies or whatever. Kinda like a little sister, only less annoying.
Then she met Jeremy.
And we didn't see as much of her. But Jeremy was a nice guy and we were happy for her. Then she went off to college (Jen, she went to Cal Lutheran!) and we saw even less of her. In the meantime, she and Jeremy got engaged and planned their wedding for two weeks after her graduation. And I was honored (and totally scared) when they asked me to be their photographer. It was so much fun to shoot their wedding because I've known Tiffany for so long and watched her grow from a little kid into a gorgeous woman.
She and Jeremy are perfect together and totally in love and although I'm kind of a pessimist about marriage in general, I have a lot of hope for them.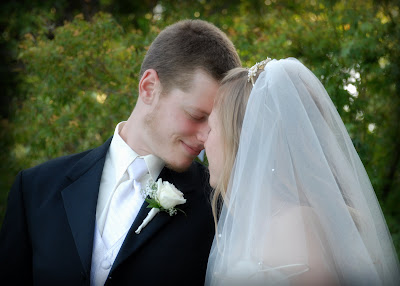 Oh, and I think they're gonna have really cute kids (get on that, Tiff).
Which brings me back to Austin (the jerky brother). He's not a jerk anymore. In fact he's married to a great girl named Brenda and they just had their first son, Logan.
I went out to Vegas earlier in the week to meet the little guy and take some pictures of him for his birth announcements. He melted my heart.
He reminded me so much of McKay when he was that size. The night before I left I offered to be on LoganWatch so that Austin and Brenda could get a full nights sleep and at about 2 am he and I were hanging out and I considered stealing him.
Well, not really. But I am in love with this baby.
I mean, look at that face.
It doesn't seem like that long ago that the boys were that little. But Gentry just started Kindergarten and McKay is a second grader! I tried to tell Logan not to grow up too fast but I doubt he'll listen. They never do.